Our offerwall is a unique feature that allows users to redeem coupons and goodies using the coins they have earned on our gaming platform by playing games. This feature is designed to help companies engage their users and generate more revenue in several ways.
Alternative Monetization: How Our Offerwall Can Increase Revenue
First and foremost, our offerwall provides companies with an additional monetization strategy for their gaming products. By allowing users to redeem coupons and goodies in exchange for coins earned within the game, companies can offer players an alternative to traditional in-app purchasing methods. This can make the game feel more fair and rewarding, leading to higher levels of player satisfaction, and can also help monetize users who would not normally make in-app purchases.
Engage and Retain Players: The Benefits of Our Offerwall
Additionally, our offerwall can help increase user engagement and retention. By providing players with the opportunity to earn rewards through completing offers, they will have a sense of accomplishment and feel like they are making progress in the game. This can lead to increased engagement and retention, as players will be more likely to continue playing the game.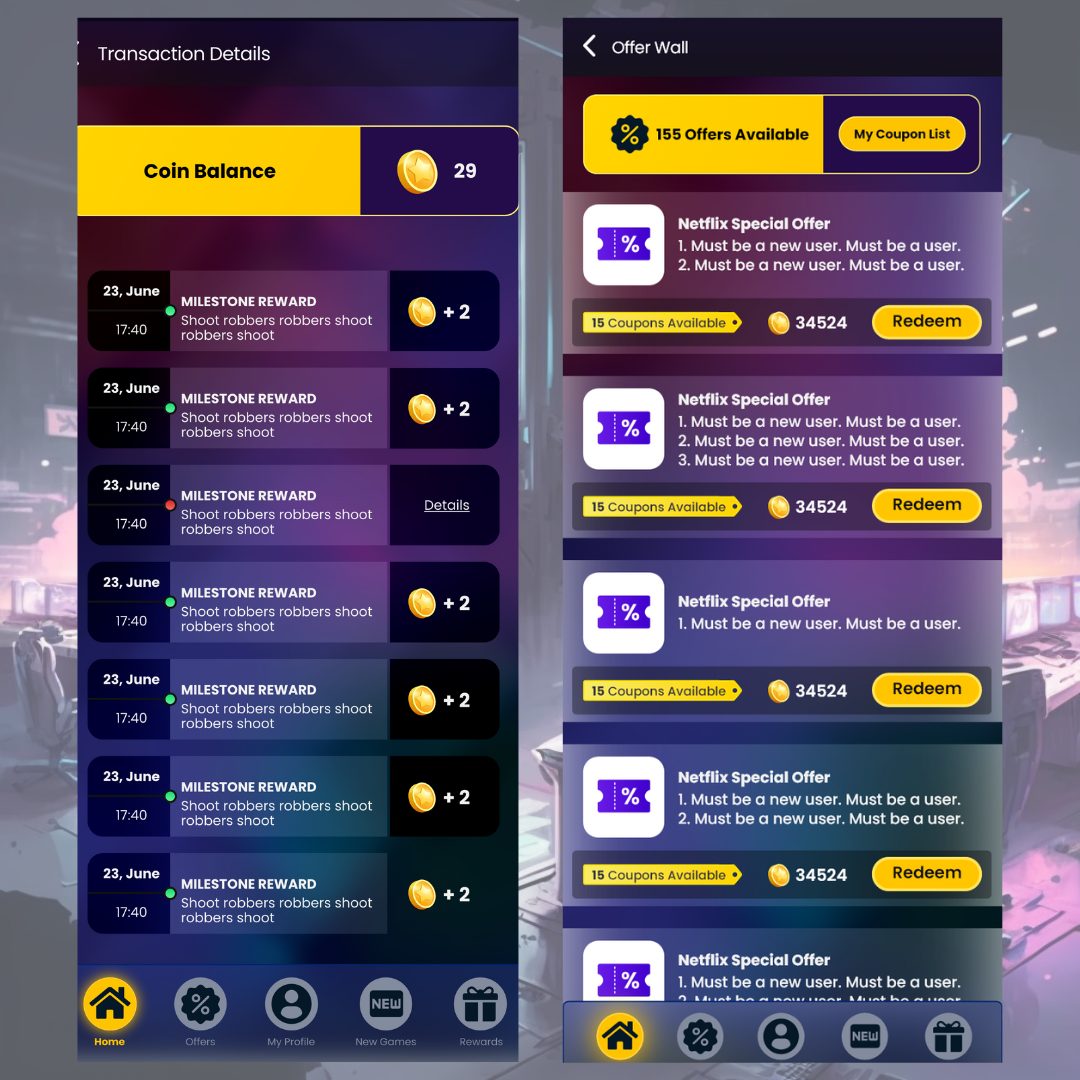 Discover the Advantages of Partnering with Other Companies through Our Offerwall
Another important benefit of our offerwall is that it can serve as a new source of revenue for our clients. Through our offerwall, companies can enter into partnerships with other businesses and offer their products or services as rewards to players. These partners can pay the company on a cost-per-action basis, such as when a player redeems a coupon or completes a survey. This can provide an additional stream of income for our clients, helping them monetize their user base in new ways.
From surveys to coupons: The variety of offers in our offerwall
Our offerwall is also flexible and customizable. Companies can work with us to design and implement an offerwall that best suits their game and audience. They can choose from a variety of offers, including surveys, registration forms, and mobile app downloads. The offers can be updated regularly to keep players engaged and to ensure that the rewards being offered are relevant and appealing.
Why our offerwall is a cost-effective solution for your gaming product
It's important to remember that our offerwall is not a one-size-fits-all solution, and we work closely with our clients to test and optimize the offerwall experience to the game and audience. It's also important to make sure that the offers and rewards presented on the offerwall are relevant and appealing to the players, otherwise, it can lead to negative experiences and lower engagement.
In summary, our offerwall is a powerful feature that can help companies engage their users, generate more revenue and provide an additional monetization stream for their gaming products. It is flexible, customizable, and easy to integrate and maintain, and it provides an alternative to traditional in-app purchasing methods, increasing engagement and retention. Furthermore, It can be used to target specific demographics or regions, making it easier to reach and acquire new users and serve as a new source of revenue for our clients through partnering with other companies for coupon usage.