Are you ready to revolutionize the way your customers engage with sports? Look no further than our fantasy sports products! With options for fantasy cricket, football, and Kabaddi, our products provide the ultimate experience for sports enthusiasts.
Scalability and Performance: Our Fantasy Sports Platform can handle any traffic
Our fantasy sports platform is built with scalability in mind. It has been tested on production to handle more than 1 million requests per minute, meaning it can handle even the most demanding traffic. But we didn't just stop there. We've put our product to the test with millions of real users in real-time scenarios, ensuring that it can withstand any demand. This means that you can trust our product to deliver a seamless experience for your customers, no matter how many users you have on your platform.
Easy Integration: Get started with our Fantasy Sports Platform in no time
We understand that ease of use is just as important as performance, which is why we've made the integration process as simple as possible. Our integration is fast, easy, and can be done within days, allowing you to focus on growing your business and providing the best fantasy sports experience for your customers.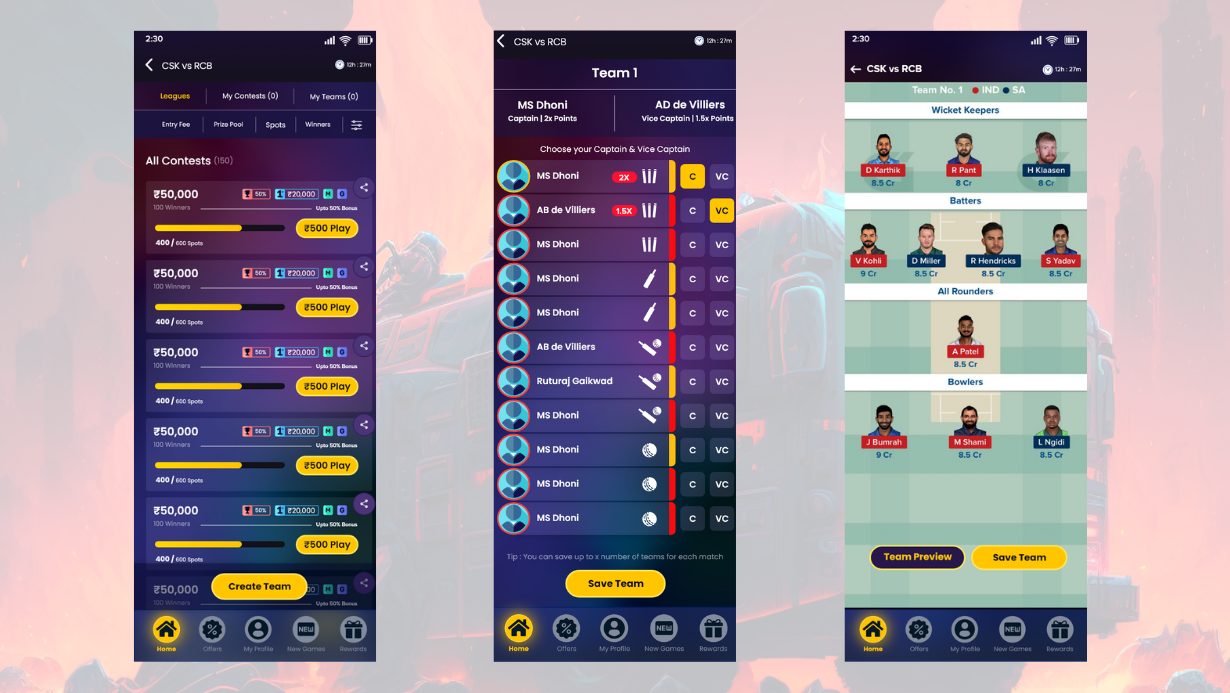 League Formats for Every Type of Player: Cater to all levels of Fantasy Sports enthusiasts
Monetizing your platform is crucial for any business, which is why we've integrated with multiple payment gateways. This makes it easy for you to start accepting payments from your users and generating revenue for your business. And with our wide range of league formats, including grand leagues, head-to-head, and small leagues, you can cater to a diverse group of customers, from hardcore fantasy sports enthusiasts to casual players.
Building a community: How our Fantasy Sports Platform fosters engagement
But our product is not just about the technical side, it also offers a great way to foster a sense of community among your users. Fantasy sports is known to create a sense of engagement and camaraderie among players, and our product offers a way to take that to the next level. You can create leaderboards, tournaments, and even rewards for your users, which not only enhances their experience but also helps you to retain them longer.
In conclusion, our fantasy sports products offer a fantastic opportunity to engage your customers and boost your business potential. With high performance, easy integration, and a variety of league formats, you can trust our product to deliver an outstanding experience for your customers. Don't miss out on this opportunity to revolutionize the way your customers interact with sports. Try our fantasy sports products today!